Sold out
Mixture - The Potion 94-95 EP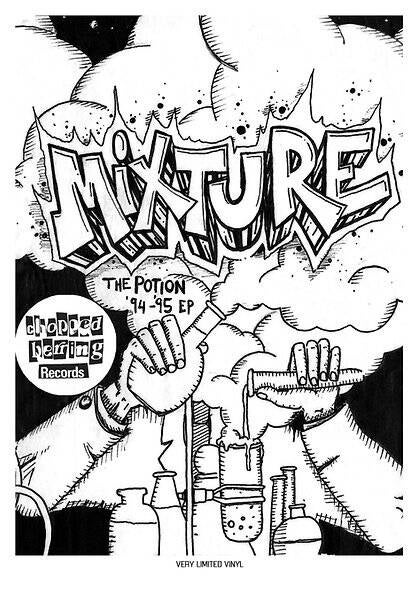 Sold out
OK what we have here for you is a KILLER 1994-1995 100% unreleased project outta New Jersey including a bunch of low key artists as well as a major joint from Massive Staff who you will remember from the Nasty Newark Air '94 EP.
Amazing material - you'll def wanna check out the snippets.
265 copies on Black Vinyl
Here's a little intro to MIxture [by Mixture]: "From his birth and the inception of his parents' company in the late 70's (Music Incorporated) Kasem A.K.A. Mixture was born with music in his D.N.A. The eclectic taste in his parent's music collection and the fact that his father deejayed during the weekends at the infamous Joe's Golden Door in Newark, N.J. as "Mr.C" provided the perfect landscape for Mixture to navigate through and expand. During the mid 80's Kasem was given DJ equipment and a non-midi drum machine plus sample keyboard and all access to the music collection of his family. Hip-Hop was entering into its "Golden Age" era and Kasem was DJing around the Newark (Brick City) and Irvington area at various clubs, school events and street events. Kasem was also laying his production foundation down working with various rappers and singers utilizing a four track cassette machine he obtained. He formed a group with Mello-Moe, a local rapper, and started working more extensively doing demos and performing at the infamous Club Sensations in downtown Newark. Performing as Mello-Moe and Kasem on Friday's amature nights gave the winner the opportunity to perform as the Saturdays' opening act for the major performer of the weekend such as Eric B and Rakim, Public Enemy, Boogie Down Productions, Big Daddy Kane, EPMD among many others. They reigned undefeated, enjoying the Saturday slot for many weekends.They got the attention of an aspiring manager who started putting them in studios in Manhattan, networking and in turn introduced them to M.C, Peaches. M.C. Peaches was a female rapper from the Vailsberg section of Newark who was signed to First Priority Music (M.C. Lyte, Audio Two etc). They all started collaborating on demos and gained the attention of Nat Robinson the CEO of FPM. Not long after, Mello-Moe and Kasem were signed to FPM, working on songs in Brooklyn and Staten Island. After a few years of being with FPM, Kasem became dissatisfied with the progress and decided to leave the situation. Not content to be stagnant, he went to a certification school for audio engineering in NYC. After graduating top of the class he started interning and engineering at various studios in NJ. Soon after, Mello-Moe and Kasem reconnected and started recording at Fly Guy Productions (later renamed The Safehouse) in East Orange (Illtown) and at In Session Studio in downtown Newark (beneath Club Sensations). This culminated with the release of an EP released in 1993 as the Party Poopers on My Disc/Emotive records that Kasem produced and engineered.Additionally. Kasem gained the opportunity to engineer at the famous House of Music in West Orange in 1993. HoM was known to be the recording home of Slave, Dr Buzzard's Original Savannah Band, and Kool and The Gang among others in the 1970's and was the initial recording and production home of The Fugees through its Le' Jam Productions during the early 1990's. Kasem became the primary Hip-Hop engineer there working with all the who's who in the Essex County, NJ and surrounding areas (including NYC) scene up until closing of the studio in 1995. After HoM's closing, Kasem purchased his own studio recording and production equipment and started producing and recording clients in a studio apartment in the Irvington Center area. He also transformed himself as a self produced solo artist rebranding himself Mixture These recordings represent the 1994-1995 era of Kasem/Mixture's productions".
All tracks produced by Kasem 'Mixture' Coleman
Check the track descriptions + extra info written by Mixture:

Kasem The Party Pooper - It's Like That - Recorded at The House of Music 1994 an early solo song from Kasem using his Party Pooper mentality.
Under Siege - Run For Your Life - Recorded at House of Music 1994/1995 Illtown's duo was family related to Sah-B (Signed to Marley Marl's label on Pendulum), which was how Kasem was introduced to them. Kasem had previously done demo production for Sah-B in 1993 at the Safehouse.
Missing Link - Be Real - Recorded at House of Music 1994 Brick City's (Central Ward) Missing Link was introduced to Kasem by a family member. This represents a set of songs for his demo for shopping.
Massive Staff - Chip In My Head - Recorded at Noise System 1995 Mixture's collaboration with the Safehouse artists was 1 of 2 songs slated to be the follow-up of Illtown/Brick City's Massive Staff's Nasty Newark Air EP.
Mixture - Permanent Fixture - Recorded at Noise System 1995 using producer's banter Kasem's transformation into Mixture was cemented. Recorded to lay a stake in "The Best Producer on the Mic" title. As a quadrant of skills presented Mixture is on the DJing in the hooks.
The M.A.S. - Clear The Room - Recorded at House of Music 1995 Paterson NJ's Dirty Work and Passaic NJ's I.S. comprised The M.A.S. Kasem's Noise System production company had a demo deal with Motown Records (along with Kasem's other artist New Brunswick's Skribe). This song represents one of the catalysts obtaining that deal..
Taboo - Do My Thang - Recorded at House of Music 1994 Illtown's Taboo was a client of Kasem. They clicked creatively and decided to do a song together, this is the result of that. "Do My Thang" also showcased the deejaying skills of Kasem in the hooks.
Tracklist:
A1 Kasem The Party Pooper - It's Like That
A2 Under Seige - Run For Your Life
A3 Missing Link - Be Real
B1 Mixture - Permanent Fixture
B2 Massive Staff - Chip In My Head
B3 The M.A.S. - Clear The Room
B4 Taboo - Do My Thang
Shipping Date: June 29th, 2022